Best Mini Trampoline Review – Top 5 Bounciest List for with Buying Guide
You walk by a small trampoline in a store and think "that'd be a great toy for the kids; they'd have fun and get exercise!" It's an understandable thought – but mini trampolines, sometimes called "rebounders," can be much more than that.
Everyone from fitness experts to NASA recommends mini trampolines for adult low-impact aerobic exercise, although there's disagreement on whether it's as effective as running or more strenuous activities, or if it's also going to strengthen your bones. Even so, it's a great way to get at least some aerobic exercise, work on flexibility and balance, and have fun – and you can do it indoors or out.
The first important thing to realize is that low-priced models designed for kids and adults may look similar, but the former aren't going to be able to handle the weight of a full-sized adult body. Toddler and child trampolines not only have more padding and extra safety features like safety nets but most are usually set higher from the floor (to allow for "bigger bounces"), and there are often cheap elastic bands instead of strong bungee cords or wire springs used to hold the mat. The typical kids' trampoline has a weight limit of 100-150 pounds, obviously not enough for most adults to safely bounce.
So you'll understandably have to pay more for a fitness mini trampoline than one for your children, but that's not the end of the discussion. As with any piece of equipment, you'll have some other decisions to make before pulling out the credit card and finding space for your trampoline.
Quick Overview: Our Top Picks for Mini Trampoline
IMAGE
PRODUCT

Style:

Bungee cord, EnduroLast

Size:

39 inches, 32.5 inch jumping area

Foldable:

No

Stability bar:

No

Tenstion adjustments:

Three

Weight Limit:

250 pounds

VIEW LATEST PRICE →

Style:

Steel springs, V-shaped

Size:

40 inches, 28 inch jumping area

Foldable:

Yes

Stability bar:

Yes

Tenstion adjustments:

No

Weight Limit:

300 pounds

VIEW LATEST PRICE →

Style:

Steel springs, V-shaped

Size:

40 inches, 27 inch jumping area

Foldable:

Yes

Stability bar:

Optional purchase

Tenstion adjustments:

No

Weight Limit:

286 pounds

VIEW LATEST PRICE →

Style:

Bungee cord

Size:

38 inches, 29 inch jumping area

Foldable:

No (Comes folded, but not practical for storage)

Stability bar:

No, but resistance bands

Tenstion adjustments:

No

Weight Limit:

250 pounds

VIEW LATEST PRICE →

Style:

Steel springs

Size:

38 inches, 28 inch jumping area

Foldable:

No, but legs can be collapsed or removed

Stability bar:

No

Tenstion adjustments:

No

Weight Limit:

250 pounds (we recommend 200 pounds)

VIEW LATEST PRICE →
What Makes an Exercise Trampoline Bounce?
In a word, physics. The mat is held in place by either bungee cords or metal springs that stretch as your weight hits the fabric and generates kinetic energy. "Hooke's Law" means that the springs will then force themselves back into their normal state of equilibrium, sending energy back to the mat – propelling you up into the air.
Springs vs Bungee Cords for the Best Indoor Trampoline?
Bungee cords and metal springs react very differently, however – and that's why deciding between the two is the biggest factor in choosing an exercise trampoline for adults.
Springs
Springs have a shorter suspension so they have less elasticity (or "give"). For that reason, a model with springs will not have as much bounce as one with bungee cords. Kids who want to soar into the air would consider that a negative but it's actually a plus for many grownups. The sensation of jogging on a spring trampoline is quite similar to that of running on a harder surface resulting in a somewhat-better aerobic workout, but one which is higher-impact and more stressful for your joints.
There are other pros and cons to spring-equipped mini trampolines. They're easier to find and generally less expensive. However, the springs are more susceptible to breaking and rusting over the long term, requiring repairs and/or replacements at an increasing rate. The springs on cheaper models usually squeak, too, which becomes annoying very quickly.
Bungee Cords
A rebounder with bungee cords will probably cost you more and may not give you the same quality of aerobic workout, but most people will find it more fun to use because you can bounce higher with less stress on your joints and potentially less long-term pain. Those who are primarily interested in working their muscles rather than exercising their aerobic system will also be more satisfied with a bungee-cord mini trampoline. The fitness gurus who claim that bouncing benefits the body's organs and lymphatic system (a disputed claim) also believe this style of rebounder is better for those purposes.
The other pros and cons are obvious from our discussion of springs; models with bungee cords are quieter and more durable, but more expensive and not quite as common. Bear in mind that higher-end models of each style may allow you to adjust the tension on the springs or cords, so you can minimize or maximize their bounce (and thus, their fitness benefits) as you desire.
Other Factors to Consider When Researching Mini Trampolines
The dangers of jumping on a mini trampoline have been greatly overstated. The vast majority of rebounder injuries result in trips to the emergency room by people (mostly children) who have become too exuberant or reckless, falling off the mat and onto the frame or ground.
Quality Build
However, because of the potential for injury, it's important to look for a rebounder with a strong frame and high-quality cords or springs; the area where the cords or springs attach to the frame should ideally be covered with a thick vinyl spring cover.
There should also be a strong jumping pad, with the best made from polypropylene. It should, of course, be weatherproof if used outdoors, which would also call for a rust-proof frame.
Stabilizer Bar
A strong stabilizer bar (that you can hold onto like handlebars) is a plus who those who feel a little skittish about jumping, and you should be sure to pay attention to the maximum weight each mini trampoline can handle.
Size/Circumference
Most mini trampolines are round and about 40 inches in circumference, although you can find models as small as 36 inches or as large as 55 inches. Smaller is better for adult exercise purposes because the bounce will be tighter and the aerobic benefits will be greater. There are manufacturers offering oddly-shaped rebounders, but most experts feel they provide no real advantage other than a potentially-larger jumping area.
Monitors and/or Resistance Bands
Finally, it's the 21st century. That means you'll find some models with bells and whistles like monitors that can measure time, the number of jumps and calories burned. The Groom+Style review team thinks there's more benefit in stability bars, resistance bands and other options that will provide safety or workout benefits.
Here is our best mini trampoline review top 5 list – let's jump into action.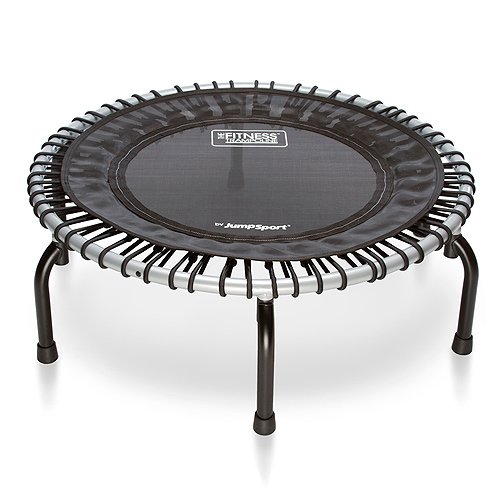 When we said you'll have to pay more for a high-quality bungee mini-trampoline, we weren't kidding. The 39-inch Model 350 will cost you five times more than the least-expensive rebounder in our rankings – but it's worth it.
Let's start with quality. The frame and mat are top-notch, with the former constructed from 16-gauge steel and the latter made from Permatron, the best propylene-style mat available, which also serves as a cover for the 30 EnduroLast (a patented material) strong bungee cords.
Even the legs are terrific, perfectly arched for added stability. This is a strong and durable rebounder, used in many fitness clubs because of its quality and wider-than-normal 32.5" jumping area.
[youtube id="ft8GvFDE89I" width="750″ height="340″ position="left"]
There are three different tension adjustments allowing you to set the Model 350 for the amount of spring and impact that suits your body and workout. It's made in America and has a fabulous warranty (although the chances are you won't need it), and is just as quiet as a bungee-cord mini trampoline should be. The trampoline doesn't fold for storage or use at an angle, but that's not necessarily a bad thing; hinges often rust or fail on many models.
The Jump Sport Model 350 is what a mini trampoline should be. It's extraordinarily well-built and provides an outstanding workout.
The price is high (although not the highest you'll find on our list), but the Groom+Style team believes there's no substitute for quality and safety when purchasing serious exercise equipment, and this is a serious mini trampoline.
Facts and figures on the Jump Sport Fitness Trampoline Model 350:
Style: Bungee cord, EnduroLast
Size: 39 inches, 32.5 inch jumping area
Foldable: No
Stability bar: No
Tension adjustments: Three
Weight limit: 250 pounds
Height: 13 inches
Weight: 21 pounds
Warranty: Lifetime on frame, five years on mat, three years on cords
Check Jump Sport Fitness Trampoline Model 350 Price on Amazon
If you've read the additional information above in the article, you know that mini trampolines with springs are generally less expensive and often limited in durability. The review team feels that the Urban Rebounder is the top option for spring-powered models, strong and sturdy at about one-third the price of the Jump Sport. As an added bonus, the maximum weight this rebounder can handle is a generous 300 pounds.
Since springs put less bounce into the mat you feel some impact in your joints when you start working out on this 40-inch trampoline with a 28-inch jumping surface, but the aerobic workout is quite effective. There's a steel frame, heavy-duty steel springs that are easy to replace as needed, a soft stretchy pad and a stability bar, and the legs fold for angled use or storage. The spring cover provides full coverage.
The manufacturer says that many health clubs use this model. We can't vouch for that, but we can tell you that it's a great choice for either indoor or outdoor use, and it comes almost completely assembled.
Very durable for a spring-equipped mini trampoline, the Urban Rebounder is a great choice at a relatively low price. We wish the jumping area was large enough for more than just jumping or running in place, but that's a sacrifice most adults will be happy to make.
Looking deeper at the Urban Rebounder Trampoline:
Style: Steel springs, V-shaped
Size: 40 inches, 28 inch jumping area
Foldable: Yes
Stability bar: Yes
Tension adjustments: No
Weight limit: 300 pounds
Height: 10 inches
Weight: 29 pounds
Warranty: One year, limited
Here's the mini trampoline that's the priciest on our list. If it didn't cost a good deal more than our number one choice, the MaXimus Life Pro would probably be at least #2 in the Groom+Style rankings. This mini trampoline is often seen in fitness or cardio centers, but it's the perfect choice for home use because it's so lightweight it can be moved anywhere in a flash.
Don't make the assumption that this 40-inch MaXimus rebounder is a flimsy piece of equipment because it's portable. It's sturdy and well-made, and one of the best pieces of fitness equipment you can find for a few hundred dollars. Heavy-duty large steel springs make this a mini trampoline that's lower-impact than you might expect from a non-bungee model, the non-slip polypropylene pad is strong and comfortable to jump on, and the spring cover is well-made and well-positioned. The legs are spring-loaded and fold up quickly, making this a very portable unit.
The jumping area on the MaXimus Life Pro is rather small for the review team's liking, only 27 inches, which along with the high price is why it fell to #3 on our list of the top 5 best mini trampolines. It's a terrific rebounder, though, and we still love it despite the drawbacks.
More info on the MaXimus Life Pro Gym Rebounder:
Style: Steel springs, V-shaped
Size: 40 inches, 27 inch jumping area
Foldable: Yes
Stability bar: Optional purchase
Tension adjustments: No
Weight limit: 286 pounds
Height: 10.5 inches
Weight: 31 pounds
Warranty: One year on frame, 6 months on mat
We move from a mini trampoline that costs hundreds of dollars to one that's affordable on a strict budget – for a bungee-style model, believe it or not. This Stamina isn't going to stand up to long-term use as well as the more expensive choices we've looked at, but it has a lot to offer for a cheap mini trampoline.
First, the specifics. There is a steel frame, mesh-style cords and a polypropylene mat with a full spring cover; they're not the most impressive materials ever, but at this price, you wouldn't expect them to be. The trampoline is 38 inches in circumference and the jumping area is 29 inches.
Now, the goodies. The Intone Plus comes with two resistance bands, allowing you to do many more types of workouts than you can on a simple rebounder. It also features an electronic monitor that keeps track of jumps per minute, total jumps, elapsed time and calories burned during your workout. Necessary? No. A cool feature? Absolutely.
The Stamina Intone Plus gives you an awful lot for a small price; it's not a durable monster or gym-quality equipment, but it's a great value.
Specifications for the Stamina 38-Inch Intone Plus Rebounder:
Style: Bungee cord
Size: 38 inches, 29 inch jumping area
Foldable: No (Comes folded, but not practical for storage)
Stability bar: No, but resistance bands
Tension adjustments: No
Weight limit: 250 pounds
Height: 9 inches
Weight: 11 pounds
Warranty: One year on frame, 90 days on parts
We end with an inexpensive spring mini trampoline which doesn't have bells and whistles, but is a little heavier than the Stamina and – to the delight of the Groom+Style review team – can be assembled in about five minutes by simply screwing in the legs.
We recommend this more for kids, teens and smaller adults because the 250-pound maximum specification is way too generous; we wouldn't suggest the Pure Fun for anyone over 200 pounds.
There are 30 dual springs, along with a polypropylene mat and a full cushioned cover, and it's rather a rather loud model because of the springs. There are 38-inch and 40-inch models available, and they're identical except for their size.
The Pure Fun Mini Rebounder won't last forever, and you may find yourself having to replace springs after a while. But for the money, you're not buying a life-long friend, you're buying a trampoline that's worth the price for the kids – and the smaller adults – in your family.
More info on the Pure Fun Mini Rebounder Trampoline:
Style: Steel springs
Size: 38 inches, 28 inch jumping area
Foldable: No, but legs can be collapsed or removed
Stability bar: No
Tension adjustments: No
Weight limit: 250 pounds (we recommend 200 pounds)
Height: 8.5 inches
Weight: 15 pounds
Warranty: 90 days
If you were looking for a way to stay fit that includes the whole family, then you could always consider getting a basketball hoop.  Curious to find out more, then read Groom+Style's best basketball hoop review – top 5 list?