Best Snorkeling Set Review – Top 5 Most Breathtaking List for October, 2023 with Buying Guide
You're on vacation on an exotic island, and there's no way you can spend a week in paradise without going snorkeling. The hotel or tour operator even supplies the equipment you'll need. What could go wrong?
Anyone who's had the opportunity to use free or rental snorkel equipment knows the answer. The snorkel might leak, the mask might not fit, the fins could be half-broken – and everything could look and smell like it hasn't been cleaned for a year or two.
It's probably not worth buying your own snorkeling gear for that once-in-a-lifetime trip to Hawaii. You can just rent a mask, snorkel, and fins for the week. But if you're a frequent traveler, or fortunate enough to live in an area where you can regularly go sightseeing underwater, owning your own snorkeling set will make your time in the water more comfortable, more hygienic and less expensive.
What to Look for in the Best Snorkeling Set
The three key components of a snorkeling set are all different pieces of equipment, so while you'll be looking for overall quality and price when choosing a set, it's important to look at the mask, snorkel, and fins (which are known in the industry as "shoes") individually to ensure that each meets your needs.
The ideal way to buy your equipment is at a dive shop where everything can be custom-fitted to your body. For example, a mask that fits perfectly will form a perfect, airtight seal when you hold it up to your face without using the straps and breathe in through your nose. With today's lifestyles, budgets and time constraints, though, it's difficult to spend hours visiting specialty stores – and you can't conduct that type of test when you're buying a complete set in a store or shopping online.
For that reason, you'll need to be certain of the sizes of mask and fins you need, and you should make sure that the equipment you buy can be easily adjusted. The set should also come with some sort of carrier, whether it's a hard case or a mesh bag, to make it easy to transport the equipment to and from the beach while keeping everything together.
Best Snorkeling Set: The Mask
High-quality snorkeling masks are made from tempered glass that's impact-resistant (for the lens) and silicone (for the material around the lens, called the skirt). You can find masks with plastic lenses and rubber skirts; it's quite possible you've rented them on a one-time basis when on vacation, and you probably found that the plastic lens clouded up quickly and water poured in through the skirt because it had cracked or didn't form an adequate seal.
Dual-lens masks that look like a pair of glasses are just as good as old-fashioned single-lens models (in our opinion, they give you a better view), and you can find high-end options that have additional "panoramic" lenses on the side (to improve peripheral vision), lenses far enough away from the face to accommodate prescription glasses, and lenses with no-fog or special coatings that enhance vision.
The closer the lenses are to the face, the less they'll fog up. We'll discuss one-way purge valves for snorkels in a minute, but some masks also have valves near the nose section of the mask so you can blow out excess water with a blast of air.
As we've mentioned, the strap isn't the primary factor that ensures a good seal but you should look for one that is easy to adjust and has enough play, so you can tighten it fully.
Best Snorkeling Sets: The Snorkel
Snorkels come in four basic types.
The basic J-shaped snorkel is most common and comes in both solid and flexible versions, with the mouthpiece of a flexible snorkel more comfortable in the mouth and able to be dropped out of your mouth when you're not using it. It's desirable that a snorkel has a one-way purge valve that lets you blow out water that accumulates at the bottom of the mouthpiece. At the top of the line are semi-dry snorkels which have a splash guard at the top to prevent splashes and sprays from getting into the tube, and dry snorkels with a valve at the top which lets you take in air without letting in any water at all.
Mouthpieces are made from PVC, rubber or silicone. Silicone is by far the best option because it won't crack and will last for years.
Best Snorkeling Set: The Fins
Many snorkelers want full-foot fins because they're better to maneuver with. Open-heel fins are usually found in equipment sets, though, because their sizing is more flexible and they can be shared with friends or family. Fins usually span two "shoe sizes," so an exact fit for your feet is unlikely. Look for ones that provide the most buoyancy, unless you'll be diving.
Those are the highlights. Let's dive into Groom+Style's reviews for hobby of the top 5 best snorkeling sets, with the understanding that packaged sets don't normally include the highest-level snorkeling equipment available; those components are usually sold separately and not in kits.
Cressi makes terrific equipment that's reasonably priced, and you won't find a better set if you're tired of renting and are ready to buy your first equipment.
The Onda mask in the Palau set is a dual-lens tempered glass model with a silicone skirt. It's a bit small compared to some competitors but that also makes for a nice tight fit, and the clear edges of the mask help with peripheral vision even though there are no side lenses. The strap is easy to adjust with "rapid-action" buckles, and most importantly, very little water gets into the mask so defogging and emptying the mask aren't issues.
A Supernova flexible dry snorkel with a silicone mouthpiece comes with this Cressi set. The valve works perfectly to keep water out, and the mouthpiece sits comfortably. The fins are the only component of the Palau set that you might want to think about since they're short-blade models which require more leg power than long-blade ones. However, their smaller size makes them easier to carry when traveling. They are open-heel models.
As the name of the product says, there's a mesh carrying bag that comes with the set and you can select the equipment in XS/S (men's size 2-4), S/M, M/L, and L/XL (men's 10-13) sizes. All of the components are latex-free and hypoallergenic.
The well-made and reasonably-priced Cressi Palau set is the perfect mask, snorkel and fins combination when you've decided to own your own snorkeling equipment.
It will cost less than a week's rental fee at a resort or dive shop, and the quality of the set is far superior to anything you'd rent or borrow.
Facts and figures on the Cressi Palau Mask, Fin, Snorkel Set With Gear Bag:
Mask: Dual lens, tempered glass, and silicone
Snorkel: Dry, silicone mouthpiece
Fins: Short open-heel
Carrying case: Mesh bag
Total weight: 3 pounds
Warranty: One year, limited
Check Cressi Palau Mask, Fin, Snorkel Set With Gear Bag Price on Amazon
One of the companies best known for its solid, moderately-priced equipment is U.S. Divers. You'll have to pay a little more for this set than you will for the Palau, but you may find the extra features that come with the Lux Platinum collection justify the extra cost.
What at first glance appears to be a dual lens mask is really a panoramic model, with extra lenses on either side for a great view of the fish and coral all around you. The silicone skirt is great as well, with channels that direct surplus water toward a soft purge valve that opens when you exhale through your nose to drain the water and equalize pressure. The Pro-Glide strap and buckle make the mask easy to adjust.
There is a dry snorkel with a comfortable silicone mouthpiece, a purge valve and even a built-in whistle you can use to gain companions' attention.
The review team really liked the full-foot fins that come with this U.S. Drivers set. They're not quite "short" but they're definitely on the smaller side, with a flexibility built into the shoes that make them much more powerful than you'd expect. They're very comfortable, too. A travel bag is included with this set, and the only drawback we found is that the fins only come in two sizes: S/M (men's sizes 4-8½) and L/XL (9-13).
The U.S. Divers Lux Platinum Set is ranked at #2 by Groom+Style only because we believe most people buying snorkeling sets are more likely to opt for a lower price than they are for extra features. Side-by-side, though, this set is the better of the two.
More detail on the U.S. Divers Panoramic View Lux Platinum Snorkel Set:
Mask: Panoramic, tempered glass and silicone
Snorkel: Dry, silicone mouthpiece
Fins: Medium-sized full-foot
Carrying case: Travel bag
Total weight: 5 pounds
Warranty: Two years, limited
Check U.S. Divers Panoramic View Lux Platinum Snorkel Set Price on Amazon
Aqualung and U.S. Divers are owned by the same Italian firm, and Aqualung equipment is just as good or even better than that of its sister company. The Sport Flexar set is slightly pricier than our #1 choice, but this is still a good value.
The VisionFlex dual lens mask is made from tempered glass with a silicone skirt. One nice feature is that the lenses are slanted with no "visible" frame, giving the wearer a wide field of vision – not as good, of course, as the panoramic view from the U.S. Divers' mask, but close. There is a Quick-Fit buckle system that makes the mask easy to take on and off.
The snorkel is the Aqualung AirFlex Purge LX model with a flexible tube, purge valve, and splash guard, along with a silicone mouthpiece. Most people won't find it as satisfying to use as a dry snorkel, but it's definitely better than a simple J-shaped model. The final component is a set of short, Flexar open-heel fins with rubber-edged blades. They're designed to give you more power despite having a shorter set of fins. Sizes are XS/S, S/M, and M/L, and there's a mesh bag for carrying the set.
Despite a few negatives like the semi-dry snorkel, the Aqualung Sport Flexar is a good quality alternative for those on the smaller side, at a price that's reasonable for beginner-to-moderate level snorkelers.
Looking deeper at the Aqualung Sport Flexar Snorkel Set:
Mask: Dual lens, tempered glass, and silicone
Snorkel: Semi-dry, silicone mouthpiece
Fins: Short open-heel
Carrying case: Mesh bag
Total weight: 3 pounds
Warranty: Two years, limited
Here's a less-expensive set that may not fit the bill if you do a lot of snorkeling, but weighs one-third less than the lightest snorkel set in our Groom+Style reviews. That makes the Phantom Speed Sport set a good candidate to take along on a vacation trip if you're just going to hit the water once or twice.
Don't expect premium materials. The mask has dual lenses made from plastic that are more likely to fog than glass ones (although there is a silicone skirt), the semi-dry snorkel takes on water fairly easily, and the open-heel fins are made from rubber and plastic. On the bright side, there are removable foot inserts that help smaller feet fit into the fins well – and you won't have to lay out a lot of money for the set. There are two size choices, S/M and L/XL.
The Phantom Aquatics Speed Sport is a budget-level set that won't satisfy devoted snorkelers, but the review team thinks it's the best low-cost choice if you want some inexpensive equipment for occasional use.
More info on the Phantom Aquatics Adult Speed Sport Snorkel Set:
Mask: Dual lens, plastic, and silicone
Snorkel: Semi-dry, silicone mouthpiece
Fins: Short open-heel
Carrying case: Mesh bag
Total weight: 3 pounds
Warranty: Two years, limited
Check Phantom Aquatics Adult Speed Sport Snorkel Set Price on Amazon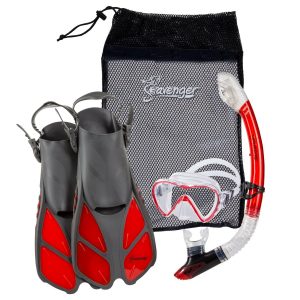 The Groom+Style team isn't fond of single lens snorkeling masks, so this low-priced alternative set ranks just below the similarly-priced Phantom Aquatics product. But it's another good possibility for occasional forays into the water.
We actually like the features on the Seavenger a little more than the ones on the Speed Sport. The single lens mask is tempered glass, the snorkel is a dry model instead of semi-dry and the purge valve works well, and the short open-heel fins have vented blades for a bit more power. Available sizes are XXS/XS, S/M, and L/XL, and the set comes with a mesh bag.
With a gun to our head, we'd say this snorkel set should really be ranked at #4 and not #5 – but we just can't get past the single lens mask. You may feel differently.
More info on the Seavenger Adult And Junior Diving Snorkel Set:
Mask: Single lens, tempered glass, and silicone
Snorkel: Dry, silicone mouthpiece
Fins: Short open-heel
Carrying case: Mesh bag
Total weight: 4 pounds
Warranty: Not specified
Check Seavenger Adult And Junior Diving Snorkel Set Price on Amazon
If you are looking to develop a new skill while on holiday then you could also consider taking along a slackline – there is no better way to have fun trying to walk a line attached to two palm trees.  Curious – then read more in Groom+Style's best slacklining kit review – top 5 most balanced list.